Sturdy Two Tier Cat Tree with Sisal Rope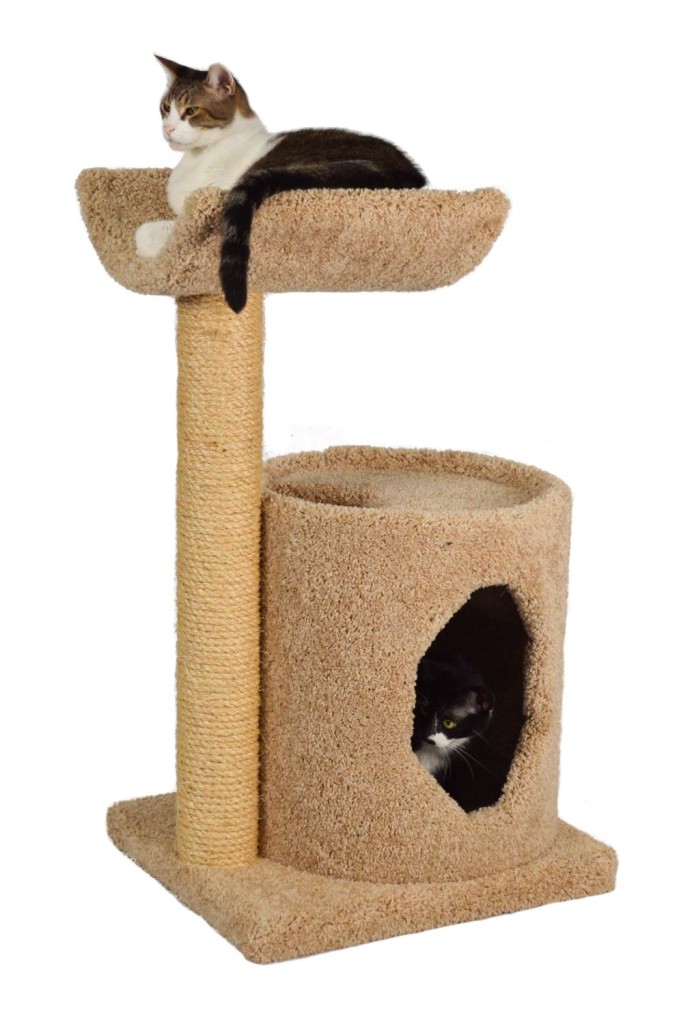 Cats love to scratch and climb.  This two tier cat tree will ensure that your cats will not get bored and start scratching and climbing your precious furniture again.  While some scratchers and trees may only have enough room to accommodate a single cat, this one is built to fit two kitties at the same time!  The cradle at the top is perfect for the cat who likes to have a panoramic view of the room from atop while the condo at the bottom provides a warm and safe place for your cat to hide when he/she wants to sleep undisturbed.  In addition, the 30 inch tough and natural sisal rope will hold up to the toughest cat claws and provide an excellent apparatus for your cats to scratch for years to come.
Specs of the two tier cat tree
This cat tree weighs in at 49 pounds (22 kg) and is 35 inches (89 cm) tall with a 19" x 21" (48 x 53 cm) base.  It's made from scratch and assembled by hand in the US which means you can be assured it'll meet even the strictest safety and quality standards.  For example, the heavy duty screws and bolts used to hold this scratching post are the same ones used for holding together furniture.
Get your kitties the tree they deserve!
Interested?  Please head over to Amazon.com by clicking the button below and you'll be able to learn more about this two tier cat tree along with detailed specs and customer reviews!