Rattan Cat Bed: Round Chamber Above the Ground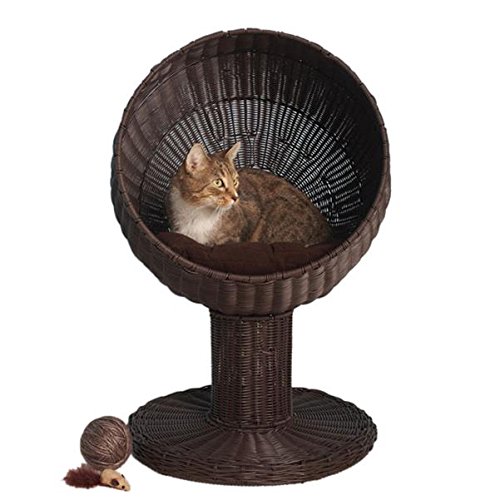 This Rattan Cat Bed gives your kitty a safe and comfortable place to sleep and relax in style!  If you've got other rattan or wicker furniture in your living room, this cat bed also fits in with your decor nicely!  This also works as an alternative to shelves or window mounts if your cat loves to lie in the sunshine.
Specs of this rattan cat bed
The dimensions of the bed are: 17in x 28in x 17in (43cm x 71cm x 43cm) and weighs a sturdy 15 pounds (6.8 kg.)  The top round dome has a diameter of 17 inches. The dome is approximately 14in (36cm) off the ground which most cats can easily jump into.
Included with the bed are a machine washable cushion and a soft pillow for your cat to sleep on.  The rattan that makes up this bed is of the nontoxic variety and will withstand breaking if your cat tries to claw on it.
Want to learn more?
You'll find this Rattan Cat Bed available on Amazon.com!  It's received not only very high average ratings so far (4.3 out of 5 stars as of this writing from over 80 reviewers) but a dozen or so cute photos of the cats of some raving fans who are totally enjoying this bed.  If you (and your cat) don't want to miss out, then please head over to Amazon via the button below!