Pink Angel Wing Harness for Cats and Small Dogs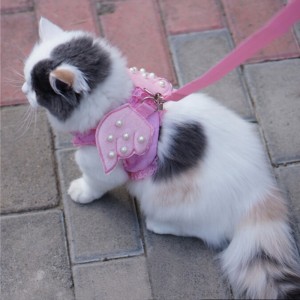 What? Cats on a leash?  This angel wing harness is designed for them!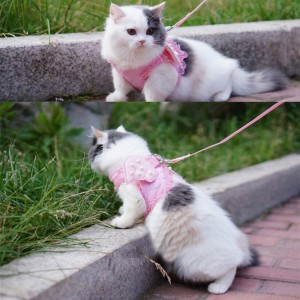 Leashes aren't just for dogs anymore!  You can certainly take Fluffy out on walks using the angel wing harness pictured above!  If your cat has been cooped up inside the house her entire life, then you really ought to take her outside one of these days!  Those pink wings are quite symbolic of the freedom your cat may yearn for, but at the same time, you don't want her to run off and get in trouble.  Hence, the leash provides the perfect solution for the owner who wants to test the waters of bring his/her cat outdoors.
Unlike dogs, cats are far more adverse to being walked on a leash.  (You don't see many owners walking their cats in the park or on the sidewalk, right?  In fact, I've probably only seen someone else walking a cat on a leash maybe 2 or 3 times in over 30 years.)  It's extremely important that you provide your cat with the most pleasant experience possible, and this harness is designed just for that!  Unlike collars, the angel wing harness is more gentle because it distributes the pulling force of the leash throughout the animal's thorax instead of being concentrated around its neck.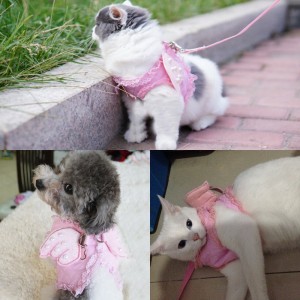 I won't lie to you; leash training a cat is by no means a straight forward feat and in the event your cat is just so resistant to being walked on a leash, you can still give this leash to a puppy or small dog if you have one as well.  The leash is 49 inches in length (120 cm) and comes in 5 different sizes which can fit cats and dogs with chest girths of between 11 inches to 18 inches (28cm to 46cm.)
Where can I learn more?
Please click the button below and you'll be taken to Amazon.com where you can learn more about this leash and angel wing harness as well as read the customer reviews.  Note that you can select there based on your pet's chest girth, so please measure your pet with a flexible tape first before choosing the right harness.