Lion Hat for Cats: Turn Fluffy Into the King of the Jungle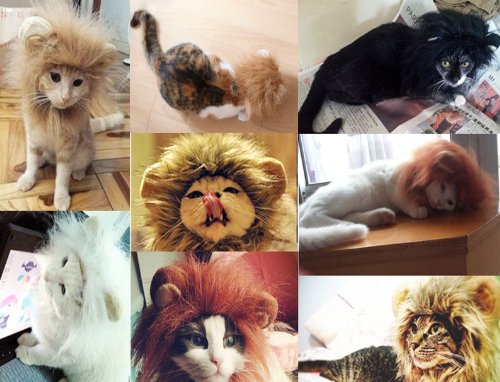 Does your cat wish to be king?  No, not an emperor but the king of the jungle?  Then give him this lion hat for cats!  Your cat's aspirations may not be that far fetched –  lions are belong in the same family as cats: Felidae.  Your cat certainly takes on the characteristics of a miniature tiger or lion with its instincts for hunting, agility, playfulness, and many other behavioral and physical characteristics.  (Now if there's a working voice changer that your cat can wear, then he will most definitely look AND sound like a mini lion!  But alas, I've not found one yet, but I'll certainly put a link here once I find one in the future!)
Specs of this lion hat for cats
This hat comes in 4 different sizes (extra small, small, medium, and large.)  The extra small size will fit a neck girth of 14-20 cm (5.51 to 7.81 inches) while the largest size will fit a neck girth of 30-34cm (11.81 to 13.39 inches.)  It's very light which means it won't weigh your cat down and cause discomfort.  Velcro is used to attach it to your cat's neck.
Where can I learn more?
Please head over to Amazon.com to read more details and reviews on this lion hat for cats by clicking the button below.  Be sure to select the right size for your cat based on the measurements there as well.