Cozy Cat Hammock the comes attached to a cat tree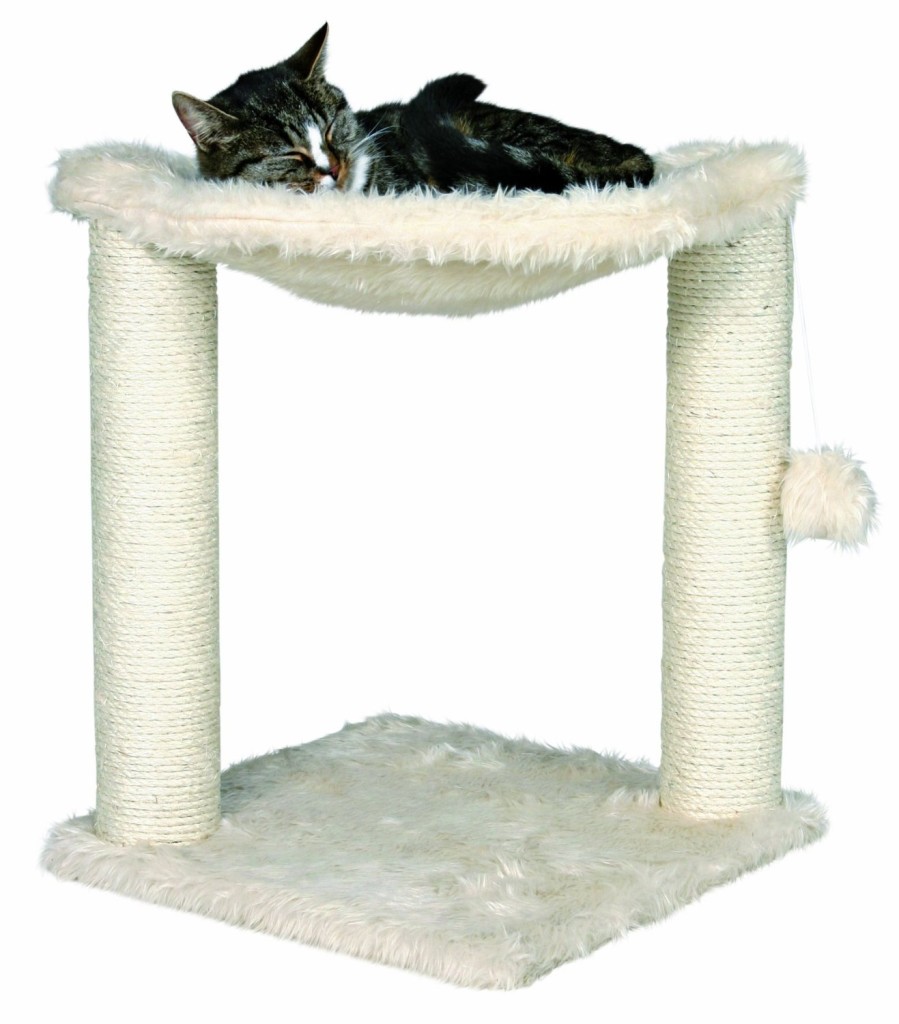 Think hammocks are only for made for humans?  Think again!  Hammocks made for cats are no longer just in the realm of cartoons for kids anymore.  Like a human hammock that attaches itself to a tree or two, this cat hammock comes attached to a cat tree.  Here we present the Baza Cat Tree which is a cat hammock supported by 2 sisal scratching posts as shown above.  There's even a pom pom that can be added underneath the hammock which your cat can play with while resting on the hammock.
Specs of this cat hammock and tree unit
Dimensions: 16in x 16in x 20in (41cm x 41cm x 51cm) with a 20in x 20in (51cm x 51cm) hammock that fits most cats and even dogs.
The hammock comes with a metal rim which keeps it safe and stable for your cats.
It weights a total of 10 pounds (4.5 kg)
The two side by side sisal posts offer great opportunities for your cats to relieve their natural urges for scratching.
The hammock and base both have soft long-haired plush fabric which your cats will find very comfortable.
The Grande version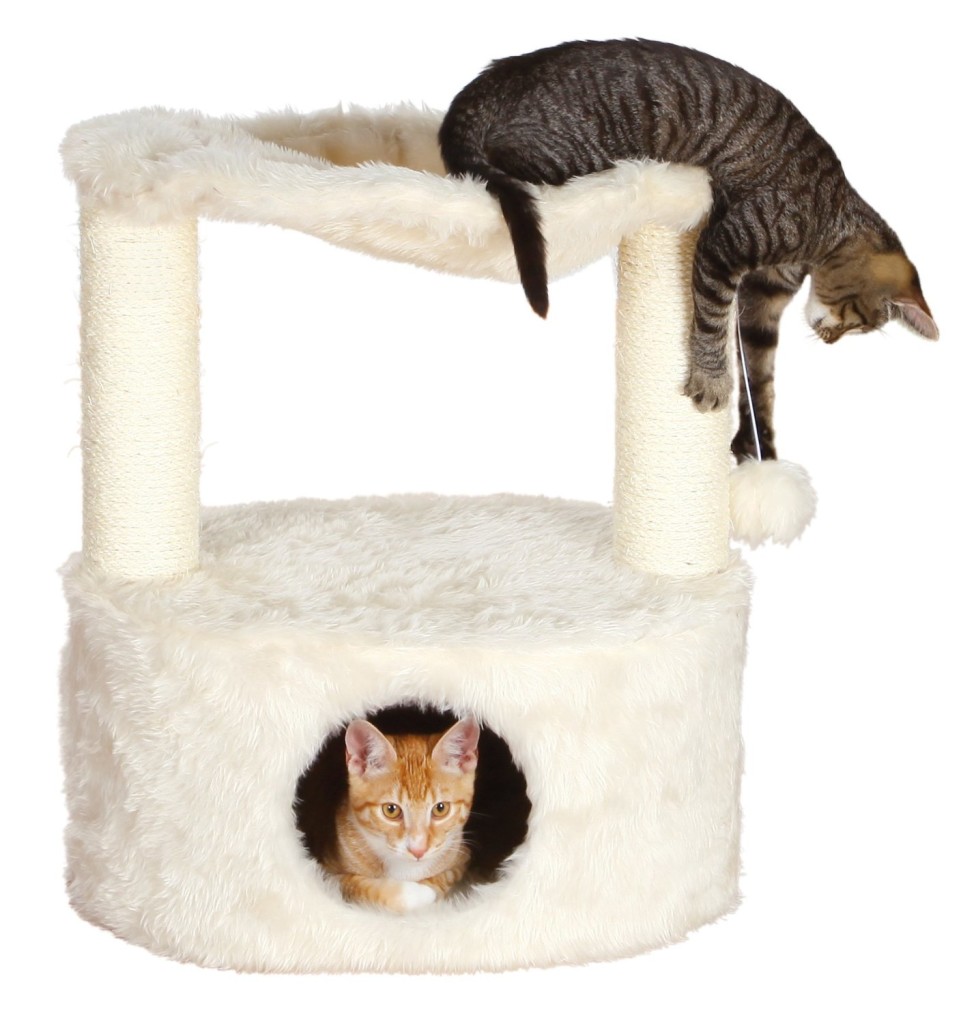 The Grande versions, like the name implies, is bigger due to the addition of a cat chamber at the bottom.  Some of the specs that differ from the original version at the very top includes:
Dimensions: 20in x 15in x 24in (51cm x 41cm x 61cm)
Weight: 17 lb (7.7 kg)
Tower Version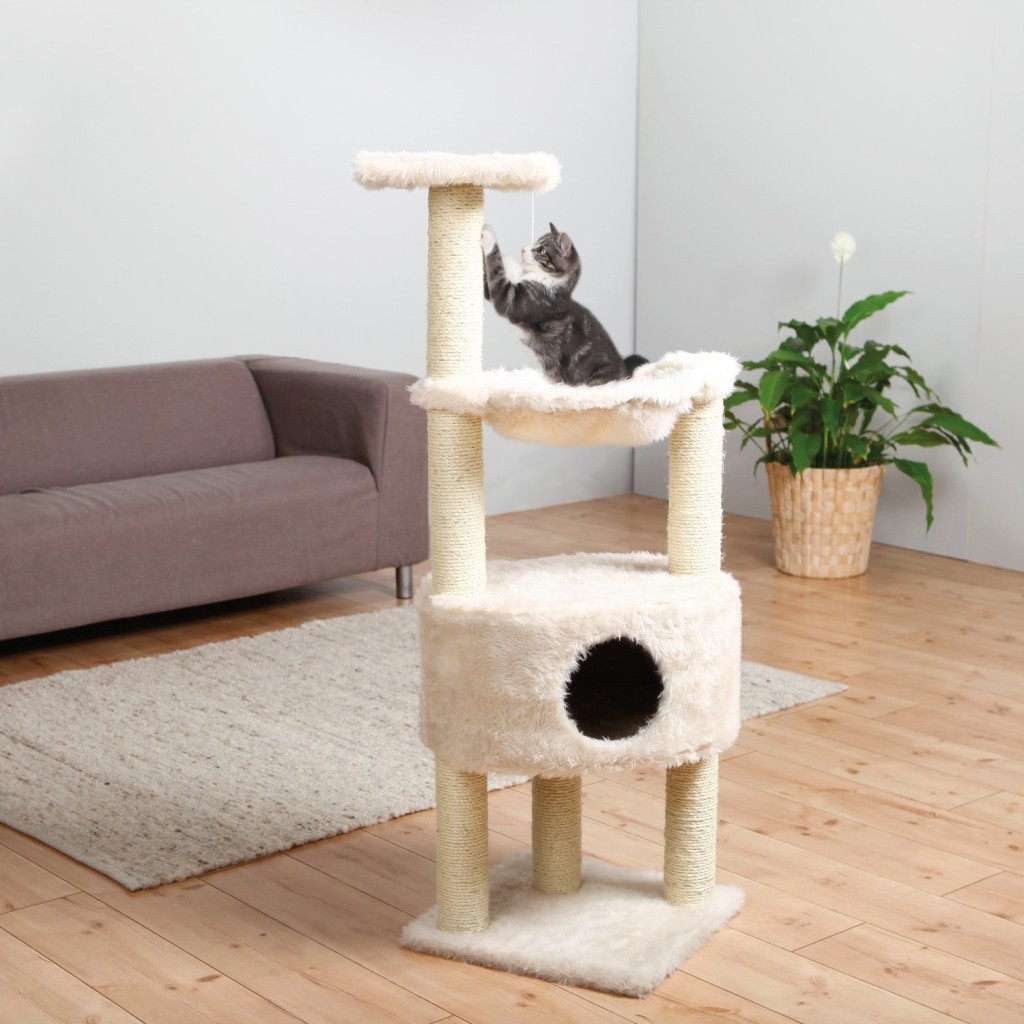 Now here's the multi-storied cat tree version of the baza cat tower.  At the very top is a small platform.  The cat hammock is on the 2nd level with another sisal post within convenient reaching distance of it.  Below the hammock is the cat cave that you've seen in the previous Grande version.  Here are the extensive specs of this magnificent tower:
Dimensions: 24.75in x 24.75in x 51.75in (62.87cm x 62.87cm x 131.45cm) for the entire tower.
Condo/Cave dimensions: 20in x 15in x 9in (51cm x 41cm x 23cm) with a 7in diameter (18cm) opening.
Hammock: 20in x 15in (51cm x 41cm)
Platform at the very top: 11in x 11in (28cm x 28cm)
Watch the Baza Cat Tree in Action!
Here's a Youtube video I found by MeowMeowMuChan which demonstrates this cat hammock and tree in closeup action:

Where can I learn more?
This is one of the most highest rated cat trees on Amazon.com scoring an average of 4.6 out of 5 stars from over 1500 reviewers as of this writing!  There's probably around 100 or so customer photos posted on that page in the Reviews section showcasing the multitude of possible setups for this cat hammock and the immense enjoyment their cute cats are deriving from it.  To learn more, just click through the button below to be taken to Amazon!