Cat warmer: electric bed shaped like a hut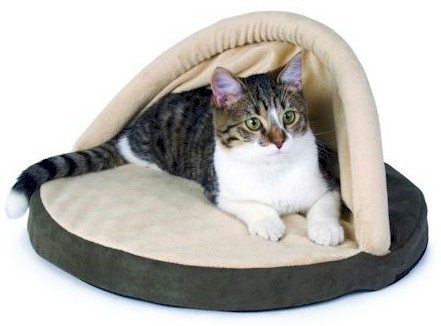 Cats are often attracted to warm cozy places like a soft bed with a hood.  This cat warmer is not only designed to be comfortable to your cat's touch but it also can be heated up to a temperature of 102 Fahrenheit, your cat's body temperature.  This is great if you like to keep your thermostat on the low side during the winter to save on energy without compromising your cat's ability to sleep well.
Specs of this cat warmer
This kitty hut cat warmer measures about 18 x 18 x 8 inches (46 x 46 x 20 cm) and weights about 1.2 pounds (0.5 kg.)  It's designed to fit one small cat (roughly 10 pounds or less) although some users report larger cats (up to 18 pounds) fitting it AND loving it.  The bottom pad is warmed using a 4-watt heater that's controlled with 2 thermostats.  Some cats might try to sleep on top of the hood or prefer to have it out of the way.  In that case, the hood can also be safely adjusted or even removed.  Since the hood itself isn't heated, it can be safely washed as well.
Where can I learn more?
Please head to Amazon.com by clicking the button below where you can read reviews of this cat warmer and see example pictures other users have posted of their cats sleeping or lounging on this cat bed!