Cat Scratching Cardboard with Flower Pattern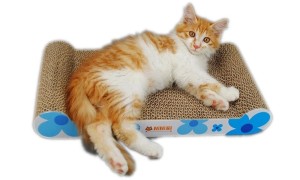 If your cat likes to scratch your couches and sofas then giving them something even more fun to scratch close by is a sensible solution which distracts them from your furniture.  Scratching posts and cat trees are ideal since they can be fun for your cat to climb but they can also get in your way especially if you're limited on space.  In that case, you'll want a cat scratching cardboard box to place on top of your couch in lieu of a scratching post which takes up valuable real estate on the floor.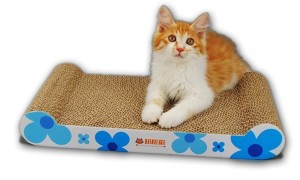 Specs and design of the cat scratching cardboard
This cat scratching cardboard has the approximate dimensions of 17.7 x 9.25 x 2.7 inches (45 x 23.5 x 6.9 cm).  It's made using environmentally-friendly and high density corrugated cardboard which makes this scratcher durable, safe, and fun for your cat to scratch over and over again while keeping its nails trimmed and healthy.  The flower pattern also makes for a welcoming change from the vast majority of other scratchers out there and contributes to a more lively decor in your living room.
Where can I find this?
Please click the button below to be taken to Amazon.com where you can learn more about this cat scratching cardboard.