Cat Crown: To Satisfy Your Pet's Entitlement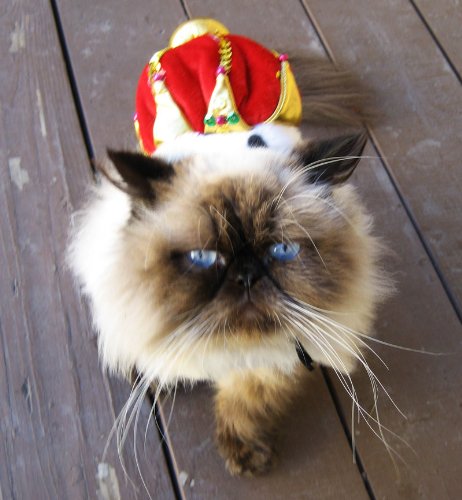 This cat crown makes me feel like the king of the house!
Face it, whether you're ready to admit it or not, your cat wants to be at the center of your life and will continue to strive for this holy grail for the rest of its life.  In a perfect world, you can fulfill your cat's ultimate fantasy.  But in the real world, we've all got a long list of obligations like work, bills, relationships, routines, etc. and it's simply not possible to give your cat all the attention it demands.
So the least you can do for your cat is to get it this crown and make it feel like a king or queen for a day!
The Specs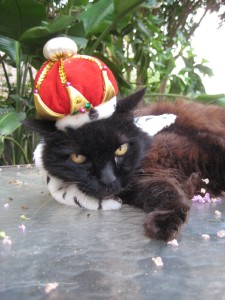 The cat crown attaches to your pet's head via a collar that will accommodate a 8 to 16 inch (approximately 20-40 cm) collar size which can fit most small to medium sized pets.  There's an adjustable chin strap so that the crown can fit comfortably depending on your pet's size. The crown itself is roughly 2.5 inches (6.4 cm) in diameter.

Not just for cats – dogs can wear this crown too!
Unlike cats, your dog treats you more like a king or queen with its unfaltering loyalty.  So let it enjoy the spoils of being king for a day and wear this crown!
For More Info
Please click the button below to learn more about this crown at Amazon.com including detailed specs, pictures, and reviews.  Note that a portion of all proceeds from the sale of each crown will go towards animal shelters helping pets who are not as fortunate as our own.